Digital Marketing, Data Warehousing, OBIEE, SEO Training Courses Provider and Search Engine Optimisation SEO Company
Are u Fresher & Looking to Start a Career/JOB in IT/Software Company? OR Want to Change from current Domain to New Booming Technology? Then you are in the Right Place, Inventateq provides 100% JOB Oriented Training, Real Time Practical Knowledge, cost-effective, Live Project based, Individual/Group Class room training and Corporate Trainings on Digital Marketing SEO PPC Training centre, Data Warehousing, Informatica Course, Oracle Business Intelligence OBIEE, Qlikview, Dot NET Technologies, VB.Net, C#.Net, Asp.Net Training, Software Testing, Manual Testing, Automation Tools, QTP, Loadrunner, Selenium, SOA, ODI, SQL & PL/SQL Classes, IBM WebSphere Application & Portal Server Courses and other IT Software Training Courses, At our Training Center you will receive consistent, in-depth Hands on live project training classes which can be put to use immediately, helping you to build your IT career with high paying Jobs in MNC Companies. this Software Training is for fresher to IT Professionals.

Our curriculum is constantly reviewed to keep our students at the forefront of SEO, PPC, .NET, Data Warehousing, Informatica, OBIEE, IBM WebSphere, PL-SQL Course, Software Testing, Online Qlikview, .NET and other IT Software Courses and other IT Software computer education and trainings. We have Coaching Centers in Marathahalli, BTM 2nd Stage, Jayanagar and Malleswaram.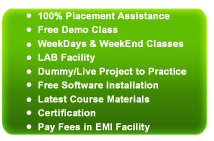 Latest JOB Openings: Company : Zoffio 15000-20000 K(Fresher) Job Duties:  Developing content in accordance with SEO Liaise with manager in order to gain thorough understanding of their SEO goals and objectives Apply trade secrets to written material in order to increase search engine rankings of the piece, website or blog Review and edit existing text, ensuring that it is SEO friendly Prepare articles or text based on the keywords
IT Firm
JOB Designation: Senior SEO Analyst. Experience: minimum 2 to 5 years Experience. No of Candidates: 2-3. We are looking for an candidates who has an practical experience in delivering Organic Search Results for our esteemed clients, we want candidates who are serious in building their career in Digital marketing since we are start up company (1.5 Years). Social Media Coordinator, Analyttica Datalab Pvt. Ltd. Analyttica is looking for a Social Media Coordinator Minimum 2-3 years of managing social media efforts for a high end consulting, social marketing or new media company. To manage all communications on our web site and social media. The responsibility includes creating content ready for all the web and social channels and day to day management to meet the integrated communication plan. The effort should result in Analyttica's brand recognition and recall in the social media space and generate enough business leads.
CommonFloor.com
0-1.5 Yrs of Experience with Online/Digital Marketing, Experience with management of campaigns using the Google AdWords system, Knowledge of best practices with optimizing campaigns in the Google AdWords, Google certified strongly preferred
Sapient :
its contract job with sapient even freshers who has taken training in Qlik view course can apply. InventaTeq students will get oppurtunity to attend interview and get placed in a Company.
Havas Worldwide Digital Matrix
Looking to hire few talents in Digital Marketing SEO and .NET Technologies, Exp: 0 - 2 Years, Location: Bangalore
Synechron Technologies Pvt Ltd. looking for Informatica / Business Objects Developer 3-4 years. Proficient in SQL and data analysis. JOB Location: Pune InventaTeq will be sending you for interviews with our clients so please share your resumes.
We have an referral opening for the below mentioned position at
NTT DATA
:
Position : Informatica & SQL Years of Experience : 2 to 7 years. Location : Bangalore Skill : · Experience on Informatica v8+/v9+ · Ideally should have used DB2 (Preferred) or Sybase in a Data Warehouse context, application developer role. · Should be familiar with SQL tuning, partitioning, stored procedures, interpreting explain-plans etc
Infometry
looking to hire Informatica, PLSQL & OBIEE Developers who are trained Freshers or experience candidates who is working already in a company. InventaTeq students will get oppurtunity to attend interview in Infometry. Request you to share your profiles.
Infosys BPO LtdLooking for SEO & SEM Candidates
Genpact Looking for PPC Candidates with 1 -3 years experience
IBM looking to hire Websphere Administrator with 3 - 8 Years
We at Inventateq dedicated to offer extreme services to make the best visibility of your Business website along with the support on variety of Web Solutions. The Reliable & Economical Digital Marketing Search Engine Optimization (SEO) & Web solution providers had its foot falls from 2004 in India. We as service providers not only have the presence in India but also providing the service to the companies exists in US, UK and Middle East. It's a one stop hub for all your web solutions include Web Designing & Development, PPC Advertising, Google SEO-Off line, SEO-Online, SMO, Online Reputation Management and as well the Technical Training Sessions. Knowing the at most importance of the SEO supports, we at inventateq strives for the best alternatives to promote your websites at the high levels of possibilities.
Our Services
Digital Marketing (SEO,PPC) Training Courses

We create demand for your Knowledge & Time by providing not only theoretical concepts of Online Marketing (SEO/PPC) techniques but also give you handsome practical & experimental opportunities to work on Live Project. Read More

Online Marketing (SEO/PPC) Services

While our SEO services provide you the best visibility, our SEM/PPC services results in cost effective instant Traffic. We provide you the hassle free SEO and PPC advertising solutions within the best possibilities to increasing the usability of your website. Read More

Corporate Training

We developed a Corporate Department specifically designed for companies and their employees' needs. Make your team experts in IT Technologies with our customized Software courses for corporate training Read More

Hire Offshore Resources

We have an expert off-shore SEO,DataWarehousing, OBIEE, .NET, Testing team who is professional and equipped with contemporary knowledge and skills. Latest JOB Openings in Accenture, IBM, Infosys, Hcl, Thomson Reuters, HP, Cisco and Many More... Read More
What Students says...
I am very happy with the way of approach you have given for seo training in a proffessional way. i learn each and every point related to seo terminology which is particularly sybllabus oriented. i practised according to your guidence and as per results part it taken some time thanks for you seo training making in a proffesional way through inventateq. Rgds - Harish
At InventaTeq, Training is good,knowledgeable.Trainer is Industry Expert, very good in teaching & giving various Real Time examples to understand the Project concept.too good course & Placement training to learn Software Testing from basic to advance.
I am happy for having associated with inventateq and the training skills of you. It was a nice experience as you exhibited and enriched my knowledge because of you on the point and could make uesfull vision which would be happy for any causes.if anyone watach me for suggestion regaring a institute to get learned on digital markiting then any one first suggestion will be inventateq. Rgds - Srinivas - E4E.COM
Inventa Teq analyzed our Target customers will and provided value to my online investment. The services extended worth more than the cost incurred. Grateful for the efforts and appreciates the expertise.
We are extremely satisfied with the Search Engine Optimization results you helped us achieve in such a short time. Our search engine rankings have stabilized and improved significantly.
I will rate InventaTeq - Marathahalli Branch as excellent. The Digital Marketing course content was really useful and trainer was great at explaining everything practically and giving good industry examples which has make me comfortable to implement in live seo job work.
InventaTeq Family is Proudly Annoucing 4th Branch in Marathahalli Old Airport Road, Bangalore on April 10th at 10 am. We Invite your presence to make our day special.
We have started New Courses like SOA 11g Training, Oracle Data Integrator ODI Class, Microstrategy Tuitions
Data Warehousing Free Demo class is scheduled at 12 PM on Saturday. Book your Seat Now!
Software Testing Free Demo class is scheduled at 10.30 Am on Saturday. Book your Seat Now!
We are pleased to announce the recent opening of INVENTATEQ in BTM Layout, #687, First Floor, 29th Main, 3rd Cross, Near AXA Company Signal enter in to N.S Palya road, BTM Lake Road, BTM 2nd Stage, Bangalore, Karnataka. We wish InventaTeq Expertise Trainers and our Students all the best as we continue to expand our business across the Bangalore, India.
Inventateq Starts Online Marketing, SEO Training, DATA WAREHOUSING - INFORMATICA, ORACLE OBI EE, .NET, VB.NET, ASP.NET, C#.NET Technologies, Software Testing, Manual & Automation QTP Tools, IBM WEBSPHERE Batch on Everyweek, So Hurry up & Book Your Seat for FREE Demo Class Now!
Inventateq has started Next Informatica Batch Training from July 12th 2011
Inventateq has started Next SEO Batch Training from June 17th 2011
Inventateq is starting OBI Batch and .NET Batch on June 19th 2011
Inventateq Implemented PL SQL Training Classes from Real Time Skilled Trainer
Inventateq has started Next SEO Batch Training from May 7th 2011
Inventateq has started Next Data Warehousing Batch Training from May 9th 2011
Oracle Business Intelligence OBI Training is running at Inventateq